Anglesey (Ynys Môn) is an island off the north-west coast of Wales, which includes Holy Island to the west. At 260 square miles, Anglesey is the largest island in Wales and with increasing numbers of visitors to the island, tourism within Anglesey is expanding drastically and becoming a more and more popular holiday destination for visitors from the UK and further afield. As tourism has developed in Anglesey, so have the number of places to stay and visit and the diverse range of things to do.
Anglesey Adventures is based just outside the town of Holyhead on the West coast of this beautiful Island. Anglesey has over 125 miles of beautiful coastline, and is regarded as the jewel in the crown of Wales. The wealth of the island's natural environment is demonstrated by it having 22,000 hectares classified as an Area of Outstanding Natural Beauty, 60 Sites of Special Scientific Interest, 4 National Nature Reserves, 3 Local Nature Reserves, 3 Special Protection Areas and 5 candidate Special Areas of Conservation.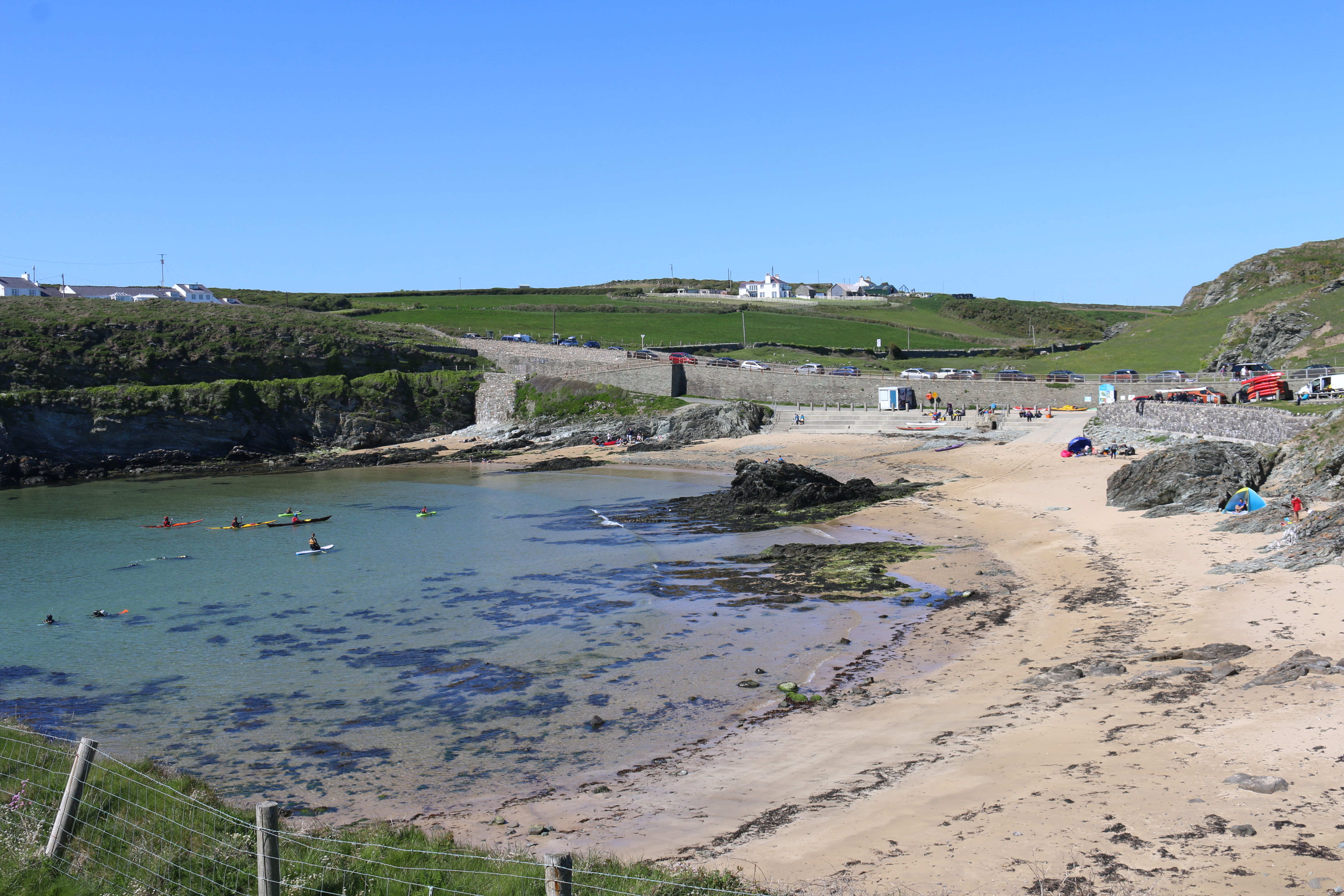 Anglesey's coastline is dotted with hidden coves, award winning blue flag beaches and offers a very diverse coastline, from the rolling sand dunes of Newborough Warren to the towering sea cliffs of Gogarth that rise out of the Irish Sea. When it comes to wildlife, you will find an abundance of sea birds on Anglesey including guillemots, razor bills and puffins, all of which return to Anglesey each Spring to breed on the iconic sea cliffs of South Stack. You may even spot a friendly seal or two or a pod of porpoises, which are often spotted off the North coast of Anglesey, particularly if you choose sea kayaking as an activity to do with Anglesey Adventures.
Pre Cambrian rock (some of the oldest rocks in Britain) covers approximately two thirds of the Island. Anglesey has a greater proportion of lowlands than any other county in Wales, with Holyhead Mountain being the highest point at just 220 meters.
There are abundant and well preserved remains from the Neolithic and Bronze ages, with Roman forts, and native settlements from the Celtic and Christian heritage. All in all, Anglesey is an island with plenty to see and do or to take some time out and chill away from the hustle and bustle of city life!
Many of our activities are run from Porth Dafarch beach (pictured above), located towards the North West of Holy Island, Porth Dafarch is a beautiful small bay on the west coast of the island and as well as being a great venue for the majority of the water water activities we run, it is also a good spot to enjoy a coastal walk or simply relax on the beach.
If you take a short drive up the hill from Porth Dafarch, there is a left turning which will take you to South Stack Lighthouse, built in 1809 on the summit of a small island, South Stack is a popular place to visit on Anglesey. For a small fee, visitors can climb to the top of the lighthouse and tour the engine room and exhibition area. The lighthouse is open seasonally and offers some of the most beautiful views over the sea, on the island.
The RSPB Nature Reserve at South Stack is a must see for any ornithologist or wildlife enthusiast. Thousands of breeding pairs of guillemots, razor bills and puffins return each Spring to nest on the stunning sea cliffs at South Stack, with rare Choughs being present all year round if you're lucky enough to see them, swooping the sea cliffs and over Holyhead Mountain. There is a visitor centre and cafe located before you reach the lighthouse, which is well worth a visit. The cafe serves good homemade food at a reasonable price, with outside seating areas where you can enjoy the spectacular views, though they are currently making improvements and both the visitor centre and cafe are closed to the public, though there is temporary catering and toilet facilities available until the work is completed in 2020. Parking is currently free though once they re-open, car parking will be charged at a reduced rate of free for the first 2 hours and £2.50 for the day.
Walking in Anglesey
As well as the stunning coastal walks around Anglesey, there are lots of beautiful places to explore on foot. Holyhead Mountain, located close to South Stack lighthouse, is bursting with history and from its summit at 220m, it offers extensive views to the west, where on a clear day, the Wicklow Mountains in Ireland can be seen across the Irish Sea. On the east side of the mountain, there is a late Roman watchtower and an Iron Age stone circle settlement at its foot, with a number of standing stones in the vicinity. If you wish to walk further, the walk over Holyhead Mountain, links with the Breakwater Country Park, from where seven million tons of limestone were quarried from the mountain to build the longest breakwater in Britiain, at Holyhead port.
The Breakwater Country Park can also be accessed from Holyhead, just take the road towards the marina and the entrance is towards the end, after the roundabout. At the park, you are likely to meet Will, the park warden who is based at the visitor centre by the car park, Will has extensive knowledge of the park and the area and is always happy to meet visitors for a friendly chat. There is a cafe and toilet facilities and a lovely little lake, you can also try the orienteering course at the park.
Orienteering is a challenging outdoor adventure sport that exercises both the mind and body. The aim is to navigate between control points marked on a unique orienteering map and decide the best route to complete the course in the quickest time.
Download short orienteering map
Download long orienteering map.
Newborough Natural Nature Reserve and Forest is another popular destination for visitors to Anglesey. Newborough Warren is one of the largest and finest dune systems in Britain. The waymarked walking trails start from several of the car parks or you can just take a walk on the beautiful beach and take in the spectacular views. There are walking trails to suit everyone, two family friendly cycle trails, a trim trail and a waymarked running trail. If you're lucky, you may even spot a red squirrel!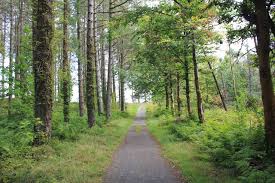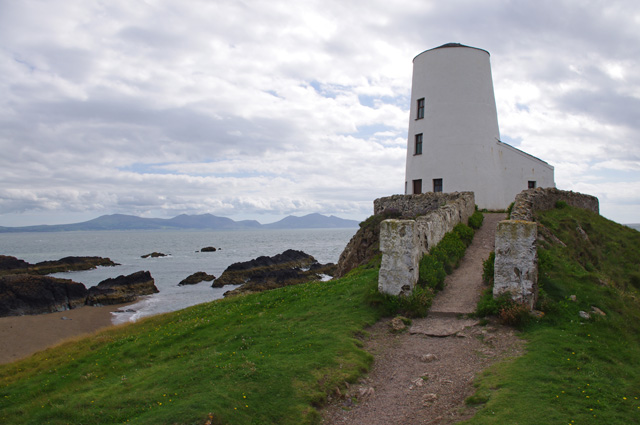 How to get there: Newborough is 13 miles from Bangor. Take the A55 from Bangor towards Holyhead. Go over the Britannia Bridge onto Anglesey and take the A4080 to Newborough village. Turn left, following the brown and white signs for 'Ynys Llanddwyn Island', and you will reach the car parks and toll booth. It is on Ordnance Survey (OS) map 263.
After a walk through dense forest, it is well worth taking a stroll along the beach towards the sandy shores of Llanddwyn Island, whilst taking in the views to Snowdonia National Park. Llandwyn is an island rich in legends. Llandwyn means "The church of st. Dwynwen". Dwynwen is the Welsh patron saint of lovers, the equivalent of St. Valentine. Legend has it that she was a Welsh princess, who fell in love with a nobleman (Maelon), however her father, the King, had betrothed her to another. Maelon threatened her for not disobeying her father, so she turned him into ice! It is said that Dwynwen was visited by an angel who granted her three wishes, she wished that Maelon would thaw and then leave her in peace, that she would never marry and her final wish was to help other lovers, especially those in pain. She built a church on the site, remains of which are still on the island.
Llandwyn is an island of geological interest with jasper formations, aeolian sand deposits and pillow lava. It is a tidal island, meaning it is attached to the mainland but is inaccessible for two hours at high tide. It is worth checking Llandwyn Island tide times, before setting out on your journey.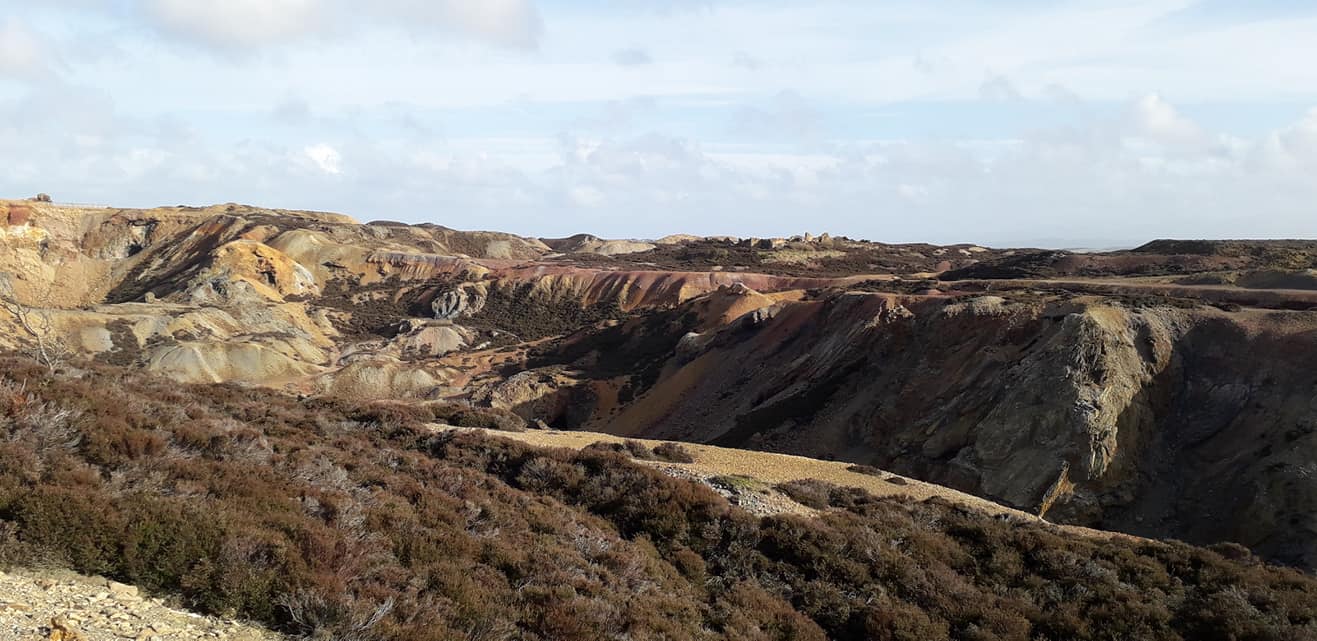 Further North near the town of Amlwch, you will find another of Anglesey's gems; Parys mountain. The mountain was mined for copper during the Bronze age, excavations which now show off its amazing colours; with tones of red, orange, brown, pink, yellow, green, purple and grey. There is a waymarked trail, providing views of Amlwch Port to the north and the nearby Trysglwyn wind farm to the south and a level walk around the top to teh Great Opencast with viewing area. The area has distant views of Snowdonia, with the peak of Mount Snowdon visible on clear days. There is free parking and no charge to take a walk there, well worth a visit!