Coasteering Wales provide brilliant, engaging team-building adventure activities to suit all, in the stunning location of Anglesey!
Our adventure activities are guaranteed to get hearts racing and promote team building between the group. Adventure activities are a fantastic way to build team spirit, reinforce bonds and have groups working together in environments that they have never experienced before!
Coasteering is a great activity for improving cohesion within the group, identifying leaders and boosting confidence among individual group members.
We cater for all levels and abilities and the adventure activities we provide mean that no matter how confident some group members may be over others; everyone is included and able to push their boundaries within their own personal comfort zone!
Coasteering is a fantastic, fun and exciting activity and will have the group laughing and working together from the outset.
Our activities are weather dependant, though we always endeavour to meet expectations and have other locations around the island for Coasteering, on occasions where the sea state and winds are too strong.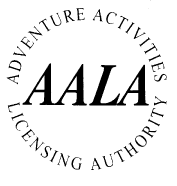 Anglesey Adventures hold the AALA license which was granted through the Health and Safety Executive and acknowledges that we have met and exceeded safety standards for the activities we provide.
Gallery